Society
Quality of service and customer satisfaction
At the heart of the strategy are our customers: our goal is for the Bank to become the primary financial service provider for its customers through excellent customer relationships. This is the main driver behind our corporate governance, our day-to-day operations and the changes we undertake.
In 2022, ensuring customer satisfaction has become perhaps more important than ever: retaining customers and nurturing relationships is a priority for the Bank. The Bank's previous satisfaction surveys were revamped: new tools and a new type of survey were used to collect feedback. In addition to the "CIB Mérce Program" (CIB Measurement Program) launched in 2019, the bank launched comprehensive online surveys (Top-down NPS) for its retail customers.
This allowed us to collect immediate feedback in monthly waves with a more detailed questionnaire to get a comprehensive yet up-to-date picture of our customers' views on our services. The "CIB NPS Monitor" is managed by the bank's Parent Company, Intesa Sanpaolo.
Service quality
A high level of customer focus is ensured not only by the training of our employees and the incentive system and corporate culture that determine their attitude, but also by our prudent and effective corporate governance system. Within our corporate governance framework, which is largely determined shaped by the statutory requirements, the following elements are the most important in terms of ensuring customer focus:
| | |
| --- | --- |
| ü | Assertively representing customer's interests at the highest decision-making levels when planning our strategy and the actions required to implement it. |
| ü | In our pricing policy, besides observing principles of fair competition and market efficiency, we consider the opportunities of our customers, and alongside responsible decision-making, we strive to extend our products and services to a wide range of customers so that no one is excluded due to their disadvantaged situation |
| ü | Stakeholder dialogue with the professional and civil-sector organisations that represent the interests of customers |
| ü | Our compliance system, which aims to ensure full observance of the statutory regulations that are aimed at ensuring the well-being of customers |
| ü | Self-regulation in terms of responsible and ethical marketing and sales (see annex for the certificate) |
| ü | HR systems and processes that ensure customer focus in the day-to-day work of employees (corporate culture, incentive system, training, diversity) |
Our customers' value
Supporting innovation and development is always a way forward for a large company. In 2022, the Bank continued to improve its ATM network (with ATMs for instant cash deposits) as well as the digital tools available in the branch network, which, in addition to simplifying administration, also aim to reduce the amount of paper used. As a result of the latter, the number of current accounts opened in CIB branches using digital means - thus paperless - increased from 25% to 32% in 2022.
When customers respond to customer satisfaction surveys, it means they trust CIB to take their views into account. In 2022 the "CIB Mérce Program" (CIB Measurement Program) was already being used as a solid tool for surveying the opinions of the bank's customers, and this has now been rounded out effectively by our new top-down "CIB NPS Monitor Programme". The Bank asked its customers not only about their overall satisfaction, but also about their product and channel usage habits and their satisfaction with them.
In addition to satisfaction surveys, the Bank pays particular attention to the handling of incoming complaints. It is very important that in the case of these inquiries, we seek an appropriate resolution to the problem by applying a fair approach; this objective is supported over the course of the year through training and expert assistance across the entire CIB Group. In 2022, the number of customer complaints received by the Bank Group decreased significantly, thanks to in part to the digital improvements implemented, the new features introduced through electronic channels, the launch of paperless account opening on mobile phones and in the branches, the launch of Apple Pay and Google Pay, which allow easy, secure and fast payment by debit card, and the further development of our ATM network.
Under the new model, the number of branches operating in a renewed environment was further increased in 2022, and customers are able to make appointments for personal advice and services via the Bank's website.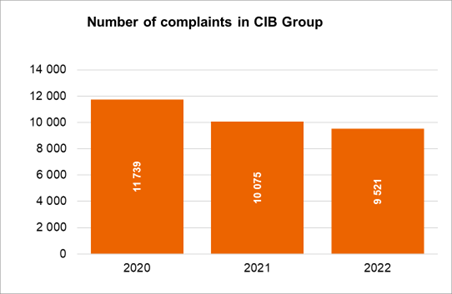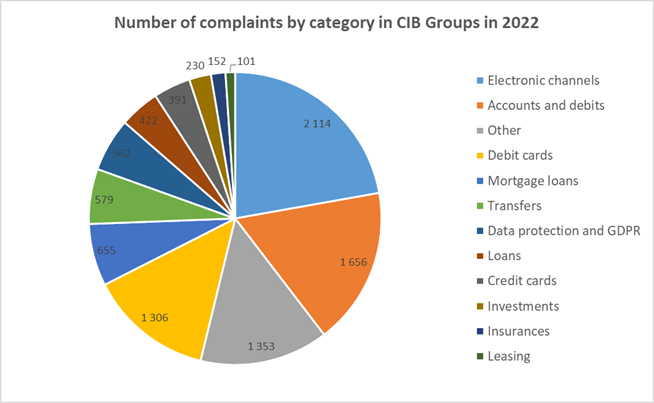 Significant changes in 2022 can be identified for two types of complaints compared to 2021. An increase of complaint related Electronic channels is due to the fact that in the first half of 2022, there were two major outages affecting the bank's electronic channels. During this period, the Bank's electronic channels were either not available at all or only partially available to customers.
This caused an increase in the number of complaints during this period. Complaints related Accounts and debits decreased significantly since 2021 because the bank has simplified its account packages, streamlined its account opening processes and made the process more transparent for customers.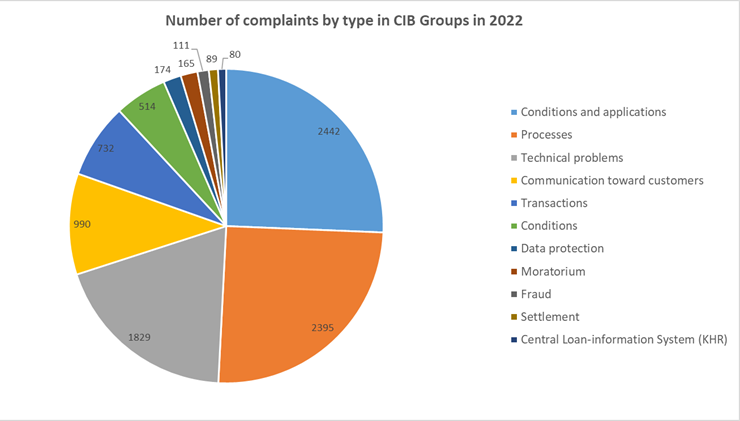 Innovation digital transformation
In the retail segment, CIB aims to increase the volume of lending by developing the various sales channels, in particular the mobile app, the internet banking platform and the online product-application processes that are available through the website. In the area of premium banking services, the aim is to continuously expand the offering, and to provide high-standard asset management and insurance products and excellent, standardised banking services through the electronic channels and the branch network. While one of the primary goals of the strategy remains to serve the needs of Generation Y (born between 1980-1994), we are also serving Generation Z (born between 1995-2009) and even Generation Alpha (born between 2010-2024) with the latest members of the Bank's 'ECO Account' product portfolio while also playing a role in the financial and digital education of the younger generations. CIB is looking to expand its activities in this area by developing new digital products and services and through cooperation with institutions of higher education.
Part of CIB's business strategy is to strengthen the corporate segment's market position by acquiring new customers and increasing business volumes. By upgrading the corporate internet banking and front-end system and by simplifying processes, the aim is for SME and large corporate customers to execute an increased proportion of their payment, deposit and currency transactions at CIB. There is also a major emphasis on strengthening treasury and documentary services. In addition to the above CIB wants to further exploit synergies with its Parent Company, Intesa Sanpaolo, in order to strengthen its presence in the multinational corporate sector.
New areas of focus for the coming years include:
the International Confirming solution to ease cross-border commercial activities, and
ESG-conscious lending activity
We strive to minimise the adverse environmental and social impacts of our products and services.
Risk management processes
Decision-making process
Comprehensive provision of information to stakeholder customers and partners
Simplification
High degree of advertising self-regulation
More details on innovation and digital transformation can be found in the non-financial section of the Bank's Business and Management Report by clicking here.
Responsibility towards the supply chain
Our suppliers
Responsible procurement is a key pillar of our operations. Therefore, our most important core principle when choosing suppliers is to display fairness and transparency in the selection process, which is thus based on the joint application of tendering and negotiation. This is why it is especially important for us to maintain good supplier relationships that enable continuous dialogue. Our objective is to operate an efficient cost management system and procurement process, and to control expenses.
The same terms apply to all our suppliers, and in the course of their selection our procurement principles and rules are enforced consistently.
Our procurement principles are as follows:
a supplier selection system that ensures transparency and a level playing field;
consistent and favourable payment terms;
insisting on legal, above-board employment even at our subcontractors;
the use of environmentally friendly technologies, environmentally friendly products and materials, and the recycling of waste is encouraged and in certain cases compulsory.
The management of suppliers is important for CIB Bank, and covers all activities needed to register and monitor suppliers, and to analyse and assess them based on technical, financial, commercial, environmental and social sustainability factors as well as on organisational considerations and reputational risks, and in terms of how good a fit they are in light of our specific needs.
The Parent Company made the decision to introduce the Supplier Portal (Portale Fornitori) system at the subsidiaries. The future suppliers of CIB Bank will have the possibility to register themselves on the portal, providing not only their official data but also specifying the procurement categories that they have experience in. At the same time, it allows CIB Bank to increase its knowledge of its suppliers, both existing and prospective, and to increase the degree of fair market competition between them.
The ISO 50001 guidelines that were previous integrated into our procurement processes (for example, the principle that low-consumption, energy-efficient and sustainable equipment and solutions should be prioritised over high-consumption alternatives during the procurement process) are fully in line with the Rules in Green Banking Procurement which was adopted in 2021. The initiatives under the latter are essentially aimed at protecting the environment. CIB Bank is committed to the responsible sourcing and use of goods and services that comply with the regulations on environmental protection and conservation. The main considerations are energy consumption, CO2 emissions, waste generation, and consumption of materials such as paper, toner and stationery. In keeping with the principles of our Parent Company, Intesa Sanpaolo, ethically sound conduct is reflected in a commitment we insist on in the contracts we conclude with suppliers, which is that the suppliers must confirm, before signing the contract, that they have read our "Code of Ethics", understood the parts that relate to them ("Guiding Principles for our Stakeholder Relationships" and "Guiding Principles for our Supplier Relationships"), that they agree with its contents and that they will fully comply with its provisions in their own operations. At the same time, suppliers can submit reports related to ethical issues to us at etikaibejelentes@cib.hu.
In addition to the rules regarding ethical behaviour, contracts concluded with all our suppliers now include paragraphs related to GDPR and anti-corruption, in compliance with our internal policies and the external regulations.
Other key issues for us are:
respect for the rights of suppliers (in particular the right to health, safety and non-discrimination);
respect for human rights throughout the supply chain (in particular the avoidance of suppliers who violate the human rights of their employees or their wider community);
the inclusion of energy efficiency considerations as a key element of our procurement, refurbishment and construction plans.
Number of suppliers and value of services purchased by geographical area
Number of suppliers

Value of purchased goods and services (million HUF)

2020

2021

2022

2020

2021

2022

Total

1,507

1,294

1,472

20,484

22,986

24,889

Hungary

1,426

1,217

1,375

16,253

17,500

19,098

Europe (excl. Hungary)

71

67

84

3,862

5,111

5,294

North America

9

8

13

354

352

498

Asia

1

2

0

15

24

0
Based on data as of 31st December 2022