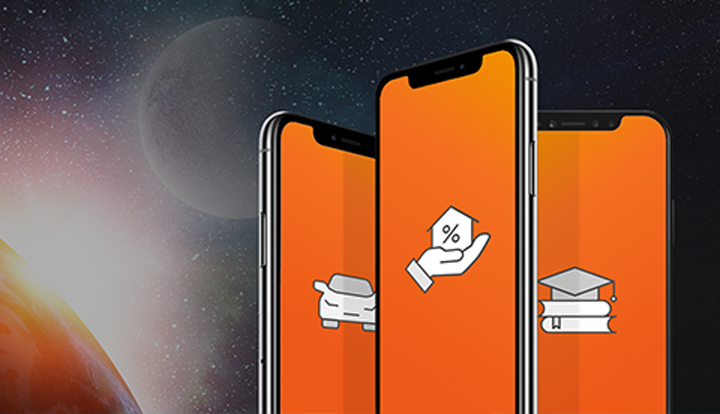 Value your Future
Discover the fastest way to change your life according to your needs.
Request your personal loan, building your future has never been easier.
Why you will love it
Can be customised
Loan amount available: between HUF 300 thousand and 10 million
Refinancing
Can be used to refinance loans from other banks
From 6,9% interest
From 6,9% interest for the AKTÍV250 discount package
Personalize your loan
Define the amount you will like to borrow, later on the process you might be able to change it based on your borrowing capability
Let's talk
Already a CIB customer
or need more information?
Bundled for your
Contracting CIB Előrelépő Személyi Kölcsön you also contract ECO Bank Account and Visa Inspire Debit Card, the banking solution that allows us to disburse your loan automatically.
With ECO Bank Account you will also get access to CIB Bank mobile and internet banking essentials tools for managing your money.
Both your ECO Bank Account and Visa Inspire Debit Card will have a zero management fee for the firs year.
An easier banking for you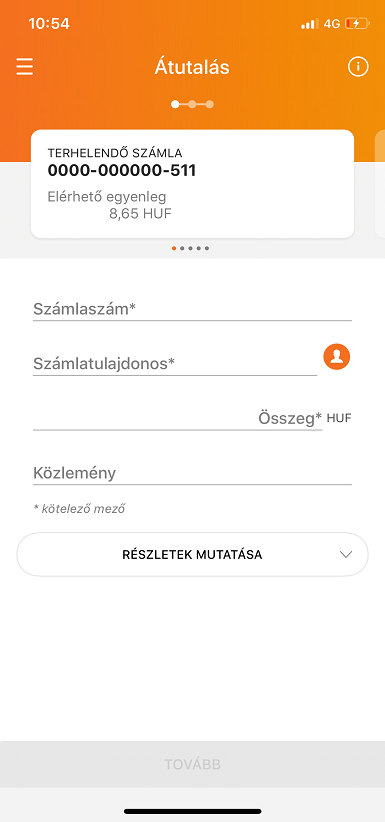 An easier banking for you
CIB Bank Online and mobile app are secure and flexible so you can easily consult your balance and use your money.
Easily manage your finances at CIB, at home or on the go, with CIB Bank Online and Mobile App, you can check your account status.
Track financial transactions with real-time notifications
You can customize spending limits to always check how much you spend.
Főbb kondíciók
Igényelhető hitelösszeg:

300 000 Ft – 10 millió Ft között
www.cib.hu-n történő igénylés esetén:

CIB.hu honlapon keresztül: maximum 3 millió Ft
CIB Bank Mobilalkalmazáson keresztül: maximum 6,99 millió Ft

Választható futamidő 12-84 hónap között (a kondíciós listában meghatározott AKTÍV450, 7M+AKTIV450, MAGNIFICA és 7M+MAGNIFICA kamatkedvezmény esetén 96 hónap), 6 havi lépésközzel
A jövedelemjóváírás összegétől függően az éves ügyleti kamat: 6,9%-18,99%-ig
A kölcsön kamata a teljes futamidő alatt fix.
THM: 7,22-21,05%
Szabadfelhasználásra vagy hitelkiváltásra fordítható
Igénylési feltételek
Alapfeltételek:
Állandó magyarországi lakcímmel rendelkező, devizabelföldi magánszemély
Életkor: 20 éves életkor betöltése az igényléskor, s a hitel futamidejének végén nem töltheti be a 72. életévet. Amennyiben a hitel futamidejének végén az adós betölti a 72. életévet, akkor olyan adóstárssal igényelhető, aki igényléskor betöltötte már a 20. életévét, s a hitel futamidejének lejáratakor nem töltötte be a 72. életévet és a személyi kölcsön további igénylési feltételeinek megfelel.
Magánszemély nyilatkozata, hogy hozzájárul az adatai Központi Hitelinformációs Rendszerből történő, más referenciaadat-szolgáltató általi átvételéhez
Magánszemélyről a Központi Hitelinformációs Rendszerben nincs negatív és/vagy adósságrendezési eljárással kapcsolatos információ
A Bank az ügyfelet hitelképesnek tartja, mely döntés során a Bank figyelembe veszi a Központi Hitelinformációs Rendszerből kapott adatokat, a magánszemély által megadott jövedelmi adatokat és a CIB Csoport nyilvántartásaiban szereplő adatokat.
További feltételek:
Pozitív alapfeltétel vizsgálat
Legalább 3 hónapos folyamatos határozatlan idejű munkaviszony a jelenlegi munkahelyen. Cégtulajdonos esetén 12 hónapos folyamatos tevékenység azonos tevékenységi körben.
Minimum havi nettó jövedelem összege (adóstárs bevonásakor személyenként) a minimálbér (2018-ban megszerzett jövedelem esetén 91 770 Ft, 2019-ben megszerzett jövedelem esetén 99 085 Ft.
További feltételek a www.cib.hu oldalon keresztül indított online igénylés esetében:
Nem rendelkező vagy tulajdonos CIB lakossági bankszámla felett
Rendelkezik érvényes, kártya formátumú magyar személyi igazolvánnyal vagy vezetői engedéllyel és lakcímkártyával
Magyarországon született, rendelkezik magyarországi állandó-, és levelezési címmel
Munkaviszonyának típusa alkalmazott, jövedelmének forrása munkabér, legalább 3 hónapja határozatlan munkaviszonnyal rendelkezik
Az igényléséhez használt eszköz rendelkezik Chrome vagy Firefox böngészővel, és megfelel a további technikai feltételeknek.
Amennyiben a honlapon keresztül online igényli, CIB ECO vagy CIB ECO Plusz Bankszámlára is szerződik, melyekről részletesen a termék nevére kattintva tájékozódhat!
CIB Bank Mobilalkalmazás
A CIB Előrelépő Személyi Kölcsön szerződés CIB Bank Mobilalkalmazáson való megkötése olyan természetes személyeknek lehetséges, akik a CIB Banknál számlát vezetnek, az igazolt havi nettó jövedelmük (munkabérük) a CIB Banknál vezetett számlára érkezik, és akik részére a Bank felajánlja a kölcsönszerződés megkötését ezen a csatornán. A Bank a hitelbírálat jogát ezen a csatornán is fenntartja. Az igénylés kezdetétől (hitelképességvizsgálat iránti kérelem aláírásától) a folyósításig akár 7 perc akkor elegendő, ha Banki napokon 8-16 óra közötti az igénylés (hitelképességvizsgálat iránti kérelem aláírása), ha az igénylő megfelel minden hitelbírálati feltételnek, nem szakítja meg az igénylést, azaz minden következő lépést megtesz, és minden informatikai rendszer megfelelően működik.